Save the date!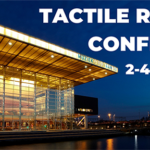 We are excited to announce the Tactile Reading Conference 2025, which will take place from 2 – 4 June 2025 in Amsterdam, The Netherlands.
We welcome you – as a former participant – to Tactile Reading's third edition. The event brings together participants worldwide who contribute to making information accessible through tactile solutions. In addition to braille, this also involves tactile graphics, drawings and 3D.
During three days, the conference will feature a varied program about all aspects of tactile reading and graphics with inspiring speakers. Join us at the fantastic and inspiring venue of the 'Muziekgebouw aan 't IJ', the most important concert hall in the Netherlands for contemporary music.
To learn more about the conference, please visit our website: http://www.tactilereading.org.
Subscribe for all updates
You will receive this email only once. If you wish to stay informed, you can do so only by signing up for it. So, please subscribe and stay tuned for further details, including the call for abstracts, the official program and featured speakers.